Cinnamon Cayenne Citrus Salad w/ Cacao Nibs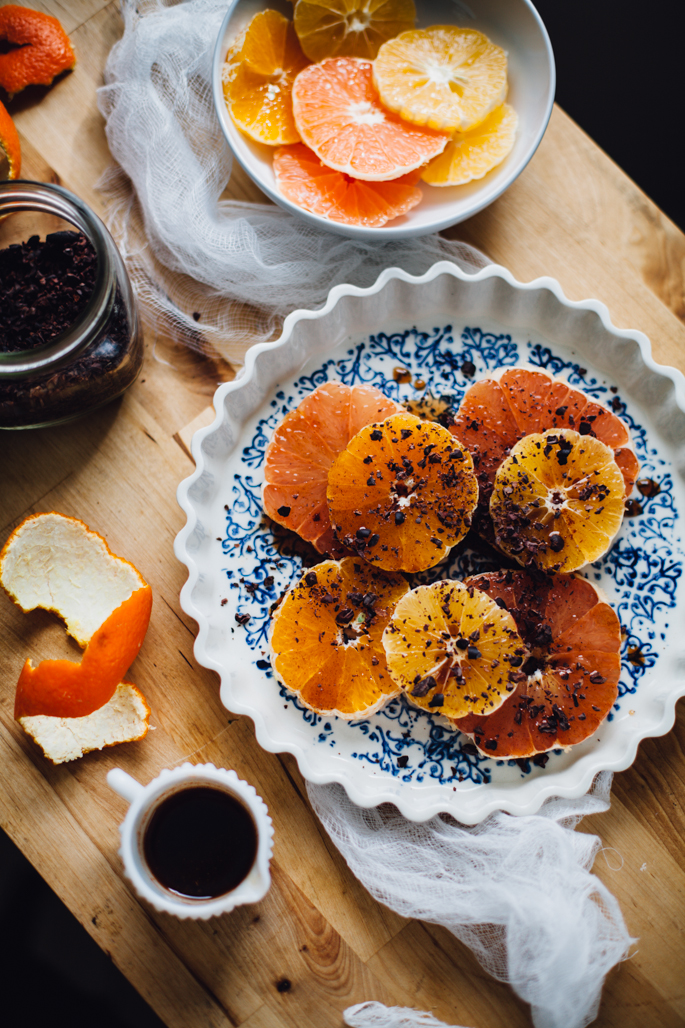 If any fruit was comparable to fireworks, citrus would be it. They brighten up the night sky that is our Winters. The flavors wow. Sliced into rounds and layered they're like softly pink and orange stars bursting. I may have stared at this citrus salad for a VERY long time before eating it. It's just so dang pretty. What with the ice on my front stoop willing me to break my neck every time I step outside, the citrus sunshine had me swooning hard.
I swooned so hard, in fact, that I made my friend Lauren and myself kombucha floats with coconut milk ice cream. Which made absolutely no sense as our toes were frozen after a snow photo venture together out in the country. But I've been dreaming of warmer days ahead. So citrus salads and ice cream floats it is.
I've seen a fair share of robins all puffed up and walking over the snow like worms? worms? There are no worms robins. If I had any, they'd be yours. Why'd you migrate so early?! I can't help you! I can't help but feel sort of responsible for these cute, wild creatures being all confused. Sorry my species is melting the glaciers and all that. 
If robins ate citrus salad... I would invite them to the table.
About this recipe: I love sweet citrus paired with warm flavors -- caramel, cayenne, cinnamon, cloves, toasted nuts, chocolate. There's something about bright, light citrus married to punchy heat and deep, rounded, mellow flavors. Use best quality maple syrup here for flavors that really shine.
Citrus Salad w/ Cinnamon Cayenne Syrup & Cacao Nibs
Author:
Prep time:
Total time:
Bright, warm, tangy, and sweet, this citrus salad is for citrus lovers. It can be made with any combination of citrus fruits (although you might want to avoid lemon/lime). The sweeter the citrus the better, although I like the tartness of ruby red grapefruit in the mix, personally.
Ingredients
1 ruby red grapefruit
1 navel orange
1 minneola orange
1/4 cup maple syrup
1 teaspoon cinnamon
1/8 teaspoon vanilla extract
pinch cayenne
cacao nibs
Instructions
Peel the grapefruit and oranges and slice the fruit into rounds.
Remove the seeds and arrange your fruit on your serving platter.
In a small bowl, combine the maple syrup, cinnamon, vanilla, and cayenne.
Drizzle the syrup over the slices of citrus.
Sprinkle the cacao nibs over top. And serve!